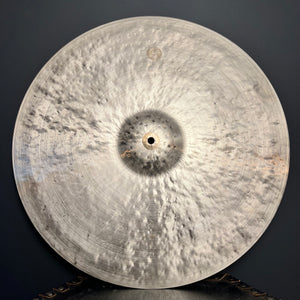 Borba Cymbals
NEW Borba 21" Custom Ride Cymbal - 2036g
Regular price
$600.00
$0.00
NEW Borba 21" Custom Ride Cymbal
Brand New Cymbal. Dark, low pitched, wobbly, masterful. This one of a kind piece of art by master cymbal smith Brett Borba produces a cymbal sound that calls up legendary tones from the legendary days of cymbal making. This beautiful piece produces a classic click on top of a bed of sizzling wash. The bell is woody and cutting without being obtrusive or overpowering in comparison with the rest of this stunning instrument. All Borba cymbals feature a meticulously hand formed bell, making this one hundred percent hand formed instrument a true treasure.  
New cymbals are on display in our showroom. Cymbals may show fingerprints or stick marks from being occasionally tested & demoed with care.
* * * 
International shipping available. Please email the item title and your address to info@badgesdrumshop.com for a custom shipping price and a link to order.